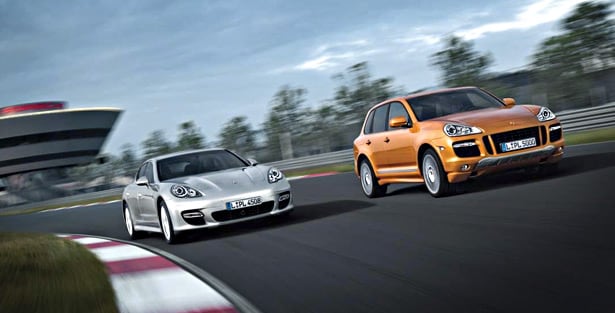 WHAT SEPARATES YOU FROM IMPENDING DOOM?
We have had very few incidents on these tours, especially when considering the number of miles driven since 1983. Lessons learned tell us that we have, on occasion, been lucky. It seems that every year brings better and faster cars. Unfortunately, every year has seen the total vehicle population and traffic increase. More cars mean more traffic and more chances for mistakes.
By far, our luckiest group has been the "Turbo" group. These are very talented and fairly aggressive drivers. Their driving style on these roads, however, leaves room for improvement. Race track tactics have no place on these roads. Cresting hills and rounding blind turns near the limits of adhesion is inviting trouble. Should any obstacle suddenly appear where one would least expect it, then evasive action may prove to not be enough. Bravado is one thing, but it's a poor substitute for prudence. These guys may be cool and envied by the others, but a little more self discipline may be in order.
The most suspect drivers over all are, without fail, the rookies. There is no way to accurately describe these roads other than unforgiving. The surfaces can change quicker than anyone could imagine. Change of surface means change of stick. Rookies also have more of a tendency to fall prey to the "Red Mist". If you fall into this category, stay within your driving ability as well as the ability of your Porsche. Avoid following better drivers; they can get you in too deep before you realize that you don?t belong there.
What happens is that we are tossing around three thousand pound cars and expect four little patches of rubber to direct these monsters like the rails of a train? Start to mix in sand, stones, wet leaves, and/or water and now you have your hands full. When friction suddenly disappears, the business end of a 911 can decide to lead instead of follow.
The level of concentration required to drive a Porsche close to its limit is incredibly demanding. Four twenty minute sessions at a Porsche Club Drivers Education track program will more than exhaust most drivers. In fact, very few drivers in the world can maintain peak concentration for a few hours, let alone a whole day. Even the briefest lapse of concentration can spell disaster.
Our goal is not the fastest drive, it's the perfect drive. Great scenery, great roads, great Porsche, and realistic driver are the ingredients for having fun. There is no place for a huge ego or competitive spirit on this trip. Please leave your ego behind when you climb behind the wheel of your Porsche. Relax and enjoy all the sights and sounds of this wonderful journey. It's the perfect way to block out all trials and tribulations of our everyday lives.
Stay safe so we can come back and do it again.
Read more from the "Just Jack" article base