PORSCHE TIRE SERVICE
Momentum Porsche is dedicated to the goal of helping you enjoy driving your Porsche for years to come, and we provide great savings offers on tire services periodically to help you save money on maintenance services.
Benefits of Tire Service
When you drive a high-performance vehicle like a Porsche, you understandably expect it to have stellar handling and maneuverability. While many aspects of the vehicle's overall engineering play a role in your experience behind the wheel, you cannot overlook the importance of having well-maintained tires. The overall condition of the tires, the thickness of the tread and the air pressure all can impact stop times, acceleration, handling, fuel economy, safety and the condition of other related components in the vehicle. You understandably want to keep your vehicle as well-maintained as possible while also promoting its performance, and regular tire service is an essential part of achieving this goal. Our team at Momentum Porsche is excited to help you with all maintenance tasks for your Porsche vehicle.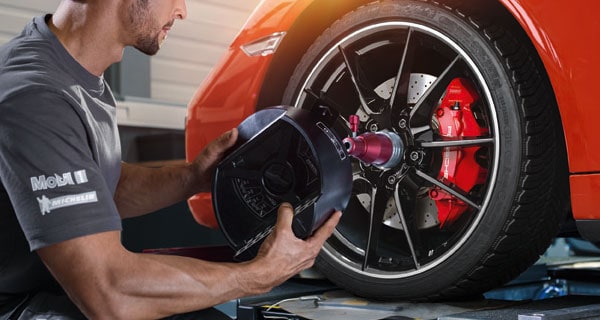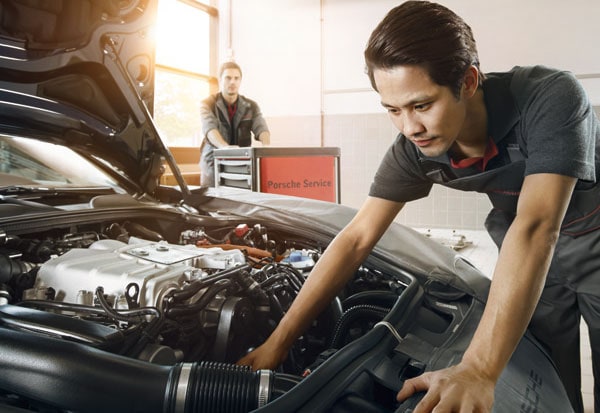 Customer Reviews
Momentum Porsche
10155 Southwest Fwy, Houston, TX 77074
Serving
Houston

,

Sugar Land

&

Missouri City
Nearest Porsche Service Center for Pearland, Clear Lake & Galveston
Houston drivers expect great things from their vehicles as well as from their dealerships. At Momentum Porsche, we strive to help each of our customers get behind the wheel of a vehicle that they can enjoy driving for years, and we also are your partner in its care and maintenance. When you bring your Porsche back to us periodically, it can receive all scheduled and recommended services required for exceptional care and condition. In our Porsche service department, you will find a team of hardworking, certified automotive specialists who are each focused on providing quality service to our customers. Tire service is just one of many types of services that we provide. In fact, our skills and experience are so robust that we also offer services on other makes and models. You can see that we are the only service center that you need to bring your Porsche and other vehicles to over the years. In addition to offering services that meet all of your needs, we also offer business hours that work well with your schedule. You can call ahead to make an appointment with us for a time that works best for you. With our extended service hours coupled with after-hours drop-off, it is always convenient to bring your vehicle in for service.
Tire Service
Remember that your tires endure the force of friction and other forces each time you get behind the wheel. They must be properly maintained at all times for the best results. If you have noticed any signs of issues with your tires or if you have not had your tires serviced recently, now is the time to contact s for an appointment. If any parts are required to maintain your vehicle, such as new tires, struts or shocks, you can expect our team to only use OEM parts, or original equipment manufacturer parts. These are the same high-quality components that the manufacturer used when producing your vehicle, so you can expect them to perform well for you. After you drive home in your new Porsche, maintenance becomes a top priority, and we are available to assist you with all tire services and other maintenance needs over the years. To ensure prompt assistance as soon as you arrive, call ahead to schedule an appointment with our team.