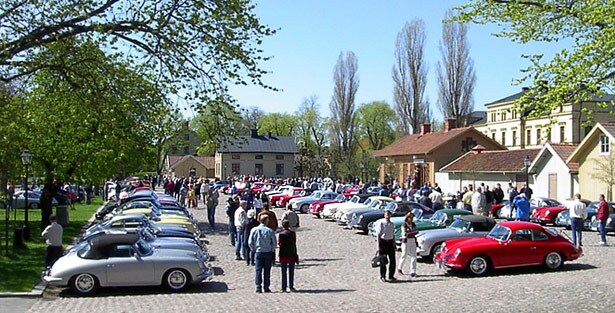 ROAD RASH
The primary cause of road rash is following the Porsche in front of you too closely. The result is a front-end: nose, hood, fenders, windshield, and possibly roof peppered with rock chips. The "red mist", more than likely, is the primary culprit.
Your ego forces you to stay glued to the bumper in front of you. Not only does this multiply the number of abrasives assaulting the front of your Porsche, but it forces the cars around you to think they're holding things up and forces them to increase their speeds.
For those who follow too closely, try leading just once to appreciate the burden placed on the first Porsche to establish a safe pace, watch for traffic, obstacles (when rounding a blind turn or cresting a brow), and look for speed traps while checking the rear view mirror to monitor the progress of the procession. Those who want to go faster should bring up the rear by falling back and catching up.
The key is giving gravity time to do its job. Speed and distance are both factors in this process. Please allow enough time for objects launched by the Porsche or vehicle in front of you to fall back to Earth and not to strike your Porsche.
Vinyl bras are okay, but must be removed after getting wet. Clear bras can be left on and work in wet or dry conditions. Some owners don't like the line that may occasionally trap wax. Consensus is that the small line is preferential to an ugly chip in the paint. Exfoliation may be good for your skin, but not for your Porsche's.
Read more from the "Just Jack" article base