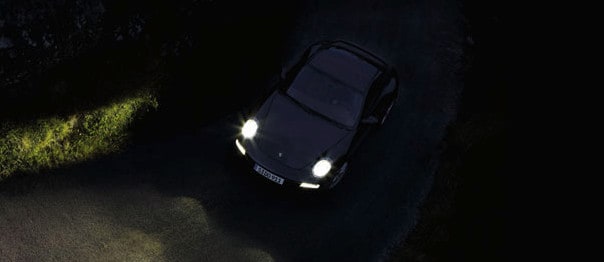 Why would anyone pay extra for headlights? Try them. Once you have experienced Porsche?s dynamic cornering lights, there is no going back. It has been said that bi- xenon lights produce the closest thing to daylight. The proof exists on Texas highways. Those speed signs with the day/ night suggested speeds quickly reveal the type of light being projected.
Using the new Porsche dynamic cornering lights, one can easily see the day light speed, in fact clearer than the night speed. The bright lights are simply a more powerful version of the excellent low beams. Basically they are high performance lights for a high performance car. Chances of overdriving your lights are certainly lessened.
Turn the steering wheel and the light seemingly pivots in the direction you?re turning, making night time driving both less stressful as well as safer. In fact, these lights eliminate the need for fog lights. The light switch now only accommodates a setting for the rear fog light.
The new daytime running lights project a thin wide beam that highlight the front of an oncoming Porsche presenting a very distinctive and attention grabbing look.
While it?s quite easy to run up the price of a Porsche on a configurator, the headlights are both functional and attractive, giving the lights a Carrera GT like look. Once again, true to Porsche philosophy, form and function go hand in hand; form always following function.
Read more from the "Just Jack" article base