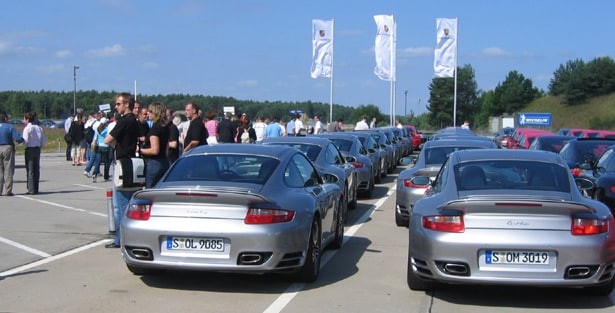 PAVEMENT- THE SURFACE TO WHICH TIRES SHOULD STICK
Unlike tracks, roads, especially back roads, have a tendency to change surfaces. Highway departments do not make it a point to advertise this information. Two of the roads we drive in particular change surfaces early and often.
This phenomenon can be unnerving to the driver who has just settled into a rhythm. The proper amount of lateral acceleration that had been working no longer applies. This is okay as long as the change is providing more sticktion. If, however, no margin of error has been allowed for, then the results may prove to be quite dicey. A worst case scenario should always be a part of one's game plan.
A light mist after a prolonged dry spell can create a surface slicker than owl poop. Driving in and out of shaded areas can also have an adverse affect on traction, as evaporation will vary.
"Slick Happens." Leaves, gravel, oil, water, and pavement material can all contribute to a loss of traction. Waiting until the change occurs is not the best plan of attack. Attempting to adjust after the sudden change may not always be possible. Remember to expect the unexpected.
Seven years ago, AR 23, "the pig trail", was subject to one of those light mists. What luck? The best stretch of fun road on the trip had just turned unpredictable. The prudent move was to slow down and surrender the thrill ride to a more practical pace. That same day, a Porsche traveling on 125 wasn't as fortunate.
Keeping the shiny side up may not prove to be the most exciting ride, but at least the ability to return another day under better conditions still exists.
Read more from the "Just Jack" article base