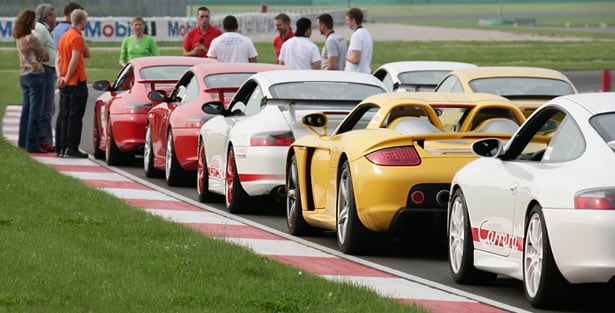 OIL TYPE, WEIGHT, MEASURING, & CHANGING
Porsche uses Mobil 1 0w40 as the factory fill. Porsche also recommends Mobil 1 0w40 for oil changes. Previously most southerners used Mobil 1 15w 50 for their Porsches. With the birth of the 996 twin Turbo Porsche, the 0w40 became an issue. This model needs this oil.
The 997 turbo like the 996 will go through some oil while breaking in. 986 Boxsters and 996's have a history of using a quart in the first 4 to 6 thousand miles. Some 997 and 987 Boxsters don't seem to burn any oil while others will.
The smoke you occasionally see on start ups is normal. The cylinders are horizontal and may hold a little oil at the bottom. If you are putting oil in on a regular basis, bring your Porsche in, and we will perform a consumption test.
An extra quart in the trunk can't hurt, unless she brought that extra pair of shoes. Wal-Mart will have some form of Mobil 1, and check with Jack who usually carries extra oil.
First generation 987s and 997s can check their oil level by turning the key to the "on" position while the car is on level ground. The oil level will then be displayed. The 1st gen 997 GT3 requires the engine to be at normal operating temperature, on level ground, and at idle. Then press the trip information stick away from you twice. This will display the oil level. Turbos are also checked on level ground with the engine running at normal operating temperature.
Second generation 997s and 987s require the engine to be at normal operating temperature & on level ground. Push the select stalk away from you, select oil, and push the lever forward to start the measurement. Do not go over the top bar; each line represents .42 quarts.
The first generation Cayenne is our only vehicle with a dip stick.
The current new car line up requires oil changes annually or at 10,000 miles whichever comes first. Changing your oil every three thousand miles is certainly overkill. Should you choose to perform oil changes more often than necessary one thing is for sure- it won't hurt.
We ask a lot of our Porsches, Mobil 1 will protect them.
Read more from the "Just Jack" article base