Next Generation 911/ 991, or Boxster- Cayman/ 981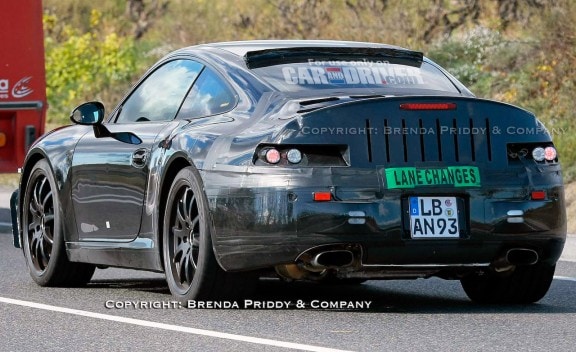 What do I know about the new 911? Only what history permits; take all the speculation out there and divide by two. Porsche will leak exactly what they want both in spy photos and technical information. They know exactly what they are doing.
Of course the magazines are going to brag that they caught a spy shot that no one else has, or they got some inside tip on product content. Porsche does defense contracting at Weissach; they can keep a secret if they want.
Why does Porsche keep its dealers in the dark? They have what they call an information embargo. As soon as any information is leaked, it's on the internet and public knowledge within hours.
Here is what we know from an historical perspective. The product content change may be up to eighty percent. The exterior will evolve but still be recognizable as a 911.
Looking at the interiors on the Panamera and Cayenne, the 911 may follow suit. The front bumper is rumored to be changing due to new European standards for pedestrians. The headlights are said to be a little more vertical, and the rear tail lights are allegedly narrower. The side view mirrors are supposed to be anchored to the doors. Cameras may replace the mirrors to cut down on drag.
The car should lose weight, gain power, handle better, stop quicker, be more environmentally friendly, and achieve better mileage. These seem to be the points most sources are endorsing. Who isn?t looking for those attributes?
To keep things fresh, Porsche likes to stair step into new models by introducing a new version every six months. Typically that means 12 to 24 months before a turbo version will be on the streets and tracks.
Based on the introduction of the 997, initial quality shouldn't be an issue. Those who choose to wait for the bugs to disappear are just missing out on the fun of having and driving the latest version of the cult car.
Those of you who have been purchasing from me for any length of time will acknowledge that I will say, "Don't buy," at least as often as I recommend buying. Guess what; I'm recommending.
Be the first kid on your block to flaunt Porsche's latest and greatest. When the 993 was introduced, Porsche said, "It's everything we know, so far." The 991 will be exactly that. Porsche's benchmark car is, once again, moving the target for automobiles that have aspirations of competing.
Rather drive a Boxster or Cayman? They will be changing as well. The changes sited above should also apply to these cars. The introduction dates aren't as clear (possibly six months after the 991), but most sources quote 2012 which could be model year 2013. There are rumors of a four cylinder engine (fuel economy and lighter with no loss of power) which may also find its way into the 911 making it the reincarnation of the 912.
The recession appears to be loosening its choke hold on the economy. It's time to celebrate capitalism by placing an order on a new Porsche.
For those bargain hunters out there, look to the 2010 and 2011 for your best opportunities. Porsche has really dried up the allocation numbers in an effort to boost resale and the value equation. The 2012 supply will also be light. Don't look for any price concessions on 2012 and expect a modest price increase.
Check, cash, or credit card? I will gladly assist in the process of specifying exactly what you want in a 2012, or looking for a previous generation value opportunity. There is no substitute. Thanks, Jack
Read more from the "Just Jack" article base