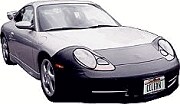 As the amount of information available increases, an honest effort is made to not increase the volume contained in the tour book. The law of diminishing returns is a serious consideration and must be respected. Larger books somehow don't seem appropriate when Porsche has always preached power to weight.
The material is intended to provide trip participants with meaningful information on any eventuality. The cell phone phenomenon has also played a pivotal role in the development of the book. Preemptive strikes cut down the number of inquiries received via cell phone.
The material is as concise as possible without becoming too technical. Layman's terms are used as often as possible. However, once in a while, a misinterpretation occurs. The following may be one of the better examples of this.
Several years ago, a west coast advertising agency was researching Porsche in preparation to pitch the Porsche Cars of North America account. A woman with the agency learned of our West Texas tour and decided to take advantage of our captive focus group.
She was afforded a copy of our list of recommendations, a precursor to the trip book. The list contained an instruction that was intended for the eight mile oval. The instruction read, "Bras are useless at speeds over 150 miles per hour." This was intended to warn participants about the frontal covers (usually vinyl with felt backing) coming loose at flapping at very high speeds. Most Porsche owners are familiar with this type of devise commonly recognized as a bra.
Prior to her departure the woman explained to her husband that for some reason she would not be able to wear a bra at higher speeds. She was apparently searching for an explanation as to why her under garment would be rendered ineffective at speed.
Luckily, her husband knew what an automobile bra was and explained the second definition of the word. Yes, it is better to ask a stupid question.
Read more from the "Just Jack" article base