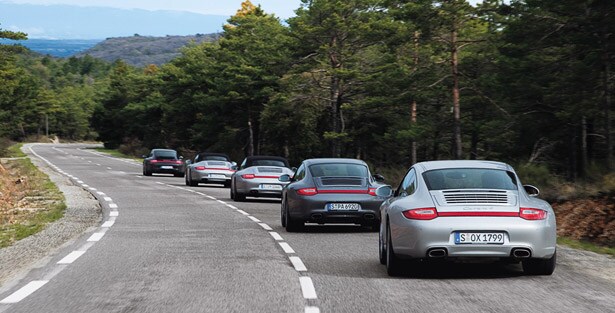 The Purple Mist
Anyone who has driven on a track knows that four twenty minute sessions in one day can wipe you out. Inspired driving on twisty two lane roads presents even more challenges as every turn is a new experience and never repeated. Concentration is demanded of the driver in an almost non-stop sequence. The purple mist is a lack of oxygen to the brain, brain fade, or fatigue.
What are the consequences of a lapse in concentration? Well, hopefully, it's no more than your Porsche and its deformation zones. Depending on where it happens, you may be looking at much worse. Remember In A Nutshell, it only takes one bad turn to ruin your whole trip. If you've ruined your trip, you probably haven?t done much for the spirits of the other participants.
It only takes one moment, one slight loss of concentration to fly into the danger zone. Maybe it's an unexpected variable such as wet leaves where a 90% effort just won't get the job done. You just can't be changing a CD or reaching for your water in the middle of an ?Oh $#!?? turn. Unfortunately, this type of driving is all in or all out. Make it a rule to ask yourself every few minutes- Did I give that last maneuver 100%? Am I dialed in?
As soon as you sense that you've lost the edge, back off. Get on your radio and tell your team that you are through driving at the current pace. Everyone will respect this, and you may have just saved one of your partners. They may also be ready to pull the plug but lack the courage to say it.
We wait a full year to return to these marvelous roads. Don't try to get all your driving done in one day. Save some of the special roads for another day. Nothing is written that says you have to experience them all in one day.
Believe it or not, most drivers are done by lunch in Jasper. Depending on your chosen route, you have probably used up most of your skills, endurance, and luck on the drive to the Ozark Café. Don't push it. Tomorrow is another day. The Purple Mist can be just as dangerous as the Red Mist.
Read more from the "Just Jack" article base