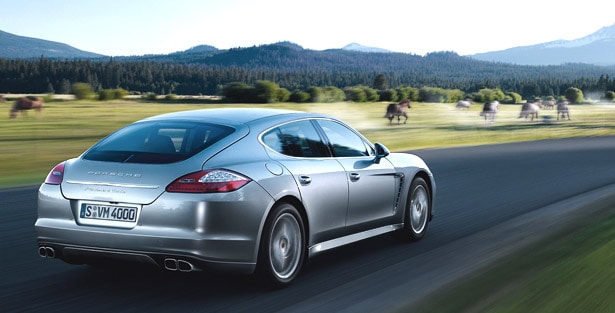 BREAKING IN YOUR NEW PORSCHE
The owner's manual is helpful with respect to tires and brakes. The other rules of engagement are, however, a little too conservative. The recommendation of limiting the engine to 4200 rpm may be a little conservative. What you do want is to vary the engine speed. This means you can travel at a given speed, but in different gears. Do not let your engine rev at the same rpm for more than fifteen minutes for the first thousand miles.
An article in Road and Track recognized the difference between a 997S engine that was broken in vs. one that wasn't. The 0- 60 elapsed times between an "S" with one thousand miles, and one with five thousand miles were quite different. Two things actually happen. One is that a well revved engine will be looser and happier at speed. The other phenomenon is that the "brain" seems to learn aggression. This was evidenced by Joe Mundy's 993 turbo at the Firestone track in Ft. Stockton.
Porsche's estimated top speed for this car was 180 mph. Craig Fecel's turbo turned in a respectable 178 mph, while Joe's was clocked at 189 mph. These figures were on a radar gun, not what the overly optimistic speedometers indicated. The difference was the way the cars were driven. Joe's right foot was usually down and the car saw plenty of track time.
Any down side may be longevity, but these cars were built to be driven. Porsche's claim to fame is durability. In an endurance race, the winner is usually the car that doesn't break, not necessarily the fastest car. This is why Porsche has been so successful at Le Mans, Sebring, and Daytona.
Porsche's are dependable both at red-line and sitting in traffic. While most of the drivers prefer the former, neither will hurt the car. This is not an invitation to drive your Porsche like the General Lee on the Dukes of Hazard. To be safe and prudent, all applications of power, brakes, and handling should be smooth and not abrupt. This definitely includes shifting.
Tires come out of a mold with a chemical that helps release them. The tires need about 120 miles to break in. Brakes require the same 120 miles of firm but not excess stress to prepare for more demanding duty.
Treat your Porsche with respect, and it will return years of enjoyment. We will gladly answer any specific questions about break-in, servicing, and performance. Remember, "There is no substitute."
Read more from the "Just Jack" article base