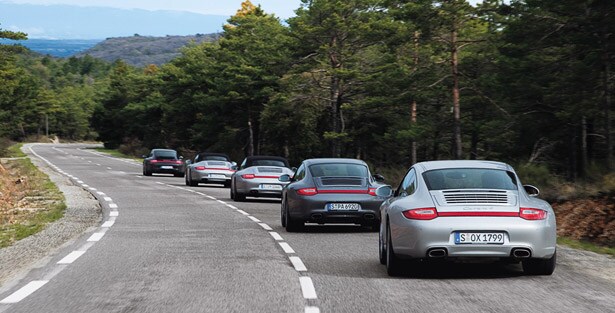 BRAKING
One of Porsche's claims to fame is superior braking. The March 2005 edition of Road and Track magazine compared nine different sports cars for the best all around sports car on the market. The two shortest stopping distances were recorded by the Boxster S and the Carrera S.
Porsche's own test for brakes requires that the cars be accelerated to 90% of their top speed and braked to 100 kph (62 mph) and accelerated back to 90% 25 times in succession. This must be accomplished with no fade. All Porsches meet this standard.
Anti-lock brakes allow the vehicle to be steered while under full braking conditions. It also assists on irregular surfaces. When possible, braking in a straight line is preferable. Ultimately, brakes are limited by the tire's capability.
Extreme conditions warrant changing to a superior brake fluid. These strenuous conditions would also require more frequent changing of the fluid as well. Changing to a racing pad may require their being heated up before they become fully effective. This would not be ideal for a tour such as ours where brakes have too many opportunities to cool down. Another draw back to racing pads is that they have a propensity to squeal.
Typically, brake squeal is caused by a glaze that builds up on the rotors from light braking. In most cases this can be cured by heavy braking which will burn off the glaze. Returning to light braking will insure the return of the squeal. This doesn't necessarily mean hammer the brakes at every opportunity; just be aware that the occasional firm application will help you avoid those, Can't you afford descent brakes? stares.
Your factory brake pads should last longer than one might expect. As an example, Porsches used for the braking/ acceleration exercise in the 1990- 1992 Porsche Driving Experience were not going through a set of pads in the six thousand miles that they spent in the program. This alone should be reason enough for you to avoid downshifting to slow your Porsche. Downshifting can put a strain on your drive train. Brake pads are much cheaper than valve trains, engines, clutches, and transmissions.
The practice of downshifting to slow a vehicle came from the dark ages when brakes were fairly ineffective. You will however want to use lower gears when descending some of the hills in the Ozarks. This will enhance your ability to control your Porsche. A little bit of throttle, especially downhill, will plant the rear of the car and give it a more controllable feel.
Read more from the "Just Jack" article base