Think back to a time when you were fully consumed by your car…maybe it was your first car, or the first car that you purchased. You eat, sleep, race, dream about your car. Pushing it to its limits, showing it off to your friends and family, detailing it – the thoughts are endless. Remember that?
The GT Experience Ozark Tour will reignite the love of your car. Spending a week with Porsche-lovers like yourself is the experience of a life-time. A week cruising the Ozarks during the day and chatting about the 'turns' of day at night is a memory-to-be-made.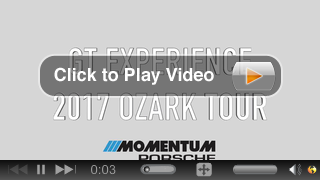 The GT Experience 2017 Ozark Tour lead nearly forty Porsches north out of Texas into Arkansas and Missouri, stopping at The Lodge at Mount Magazine and Big Cedar Lodge for luxurious overnight accommodations and dining. The days are filled with small group spirited-driving to match your skill level.
There are West Texas Tours happening in January, so for further information and or to reserve your spot for the Ozark tour in October, please contact Jack McCall at jack.mccall@hotmail.com.