2019

Porsche Taycan
Starting MSRP

$TBA
*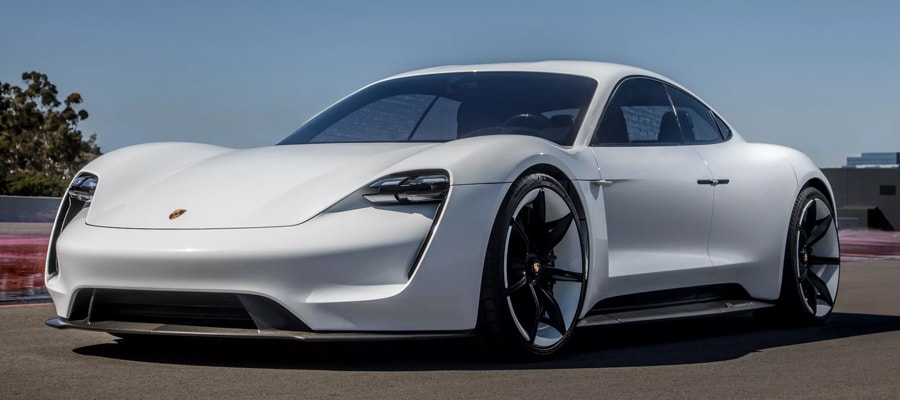 Proudly Serving Houston, TX
What's the Price for the 2019 Porsche Taycan?

The starting MSRP of the 2019 Porsche Taycan is $TBA. *
 

What is the Battery Range of the 2019 Porsche Taycan?
One full charge provides a driving range of 300 miles. **
Battery Range
 300 miles**
Charging Time
 15 minutes ***
 

What's New for the 2019 Porsche Taycan?

The automotive world is excited about the upcoming release of Porsche's first all-electric car, the 2019 Taycan. It is a production version of the Mission E design concept unveiled in 2016. The name Taycan (pronounced "tie-con") is a Eurasian word meaning lively young horse. And lively it will be, with a new platform and a lithium-ion battery floor pan. Not all details have been nailed down yet, but we do have some early, tantalizing information.
Performance
The new Taycan might be offered in three different versions outputting 402, 536 and 670 horsepower. It will feature all-wheel drive with two electric motors at the front and the rear axles, but a rear-drive version is also possible. These motors can collect energy from braking. Look for advanced features like torque vectoring and four-wheel steering.
Batteries
Apparently, Taycan will offer two battery capacity options. The smaller battery pack will offer approximately 80 kWh output, the larger one producing 95 kWh. The larger battery is required for maximum horsepower. These batteries will be cooled to an ideal temperature to ensure repeatable, consistent performance.
Charging
Porsche is tinkering with an 800-volt charging system that can create a 250-mile driving range in just 15 minutes. Taycan will also be chargeable with a 400-volt system or a conventional household circuit. Porsche has committed to building a 500-charger network in the U.S. These chargers will be set up at Porsche dealers and at strategic highway locations.