In 2019, the Porsche Cayenne turns head with its design change, which includes a combination of interior and exterior revisions. The Cayenne also gets the addition of more engine options as well this year. The 2019 Cayenne also features a hybrid version that has been further refined and enhanced for 2019. The 2019 model year marks the launch of the third generation Cayenne.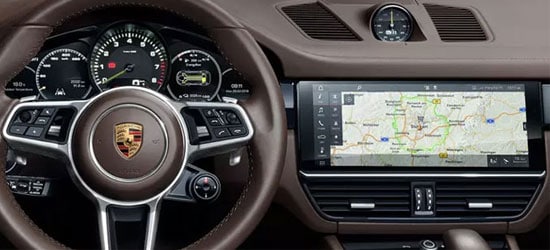 One notable highlight of the 2019 Cayenne is a redesigned interior, which comes with a suite of updated technology features for the 2019 model year. The Cayenne's cabin features a technology called the "Advanced Cockpit" control, which is a revised center console that has direct touch technology and easy access to the infotainment system's features, including the gear selector. Strategically placed above the center console is the Porsche Communication Management mechanism, which is a 12-inch touchscreen with an HD display, navigation, and intuitive controls. The touchscreen features a wide-screen design that puts important information within easy reach and view, including the car's performance statistics, current temperatures, and the weather. This year, the Cayenne also has an intuitive infotainment system called Porsche Connect. Porsche Connect comes with a number of smartphone apps, music, directions, and more. It can also be paired with a smartphone app to provide remote operation of the vehicle. You can also get important updates about the car with the app when you've left it parked somewhere. Instead of the standard audio system, the 2019 Cayenne can be upgraded with several premium sound systems instead, which are a Bose surround-sound system and a Burmester 3D premium surround-sound system. Along with the standard stereo system, you can also add in a six-disc CD/DVD player to provide entertainment or play your favorite songs.
The 2019 Porsche Cayenne also excels in the areas of convenience and safety. It comes with a number of driver-assist technologies that are designed to recognize risks in your path of travel, such as vehicles, objects, and passengers, and respond accordingly by physically stopping the car or sending you an audible warning. The infotainment system in the Cayenne features a head-up display that projects key information about the SUV onto the windshield, directly into your field of vision. This information includes incoming phone calls, traffic sign recognition, driver assistance warnings, current speed, active safety features, and more. Among the numerous safety amenities you'll find in the 2019 Porsche Cayenne is adaptive cruise control, which helps you stay a safe following distance from the vehicle in front. This advanced cruise control feature can help with both nighttime and daytime driving. At night, the system works by using an infrared camera to detect objects ahead and to the sides of the road. Some safety features are available in the 2019 Porsche Cayenne, such as front and rear parking assistance and a camera with a surround view. Lane-keep assist can also be ordered as part of the Cayenne's safety technology system.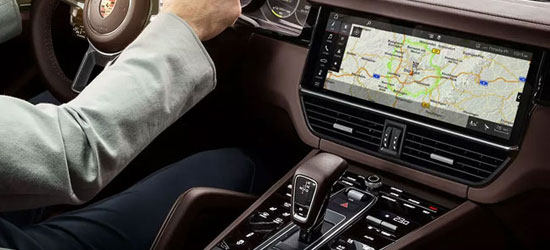 Once you learn all about the technology and amenities that the 2019 Porsche Cayenne has, you'll probably be eager to take one for a test drive. You are invited to take the latest Cayenne for a drive at our dealership, where you'll find a friendly, helpful staff and a broad inventory of vehicles to choose from to complete your test driving experience. When you arrive for a test drive, or even before you get here, don't hesitate to ask our staff members any questions you have about the latest Cayenne and its technology.